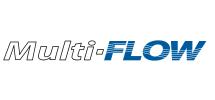 Professional Drainage System
Multi-Flow  (http://www.multi-flow.com) is manufactured from high density polyethylene, and factory wrapped in a needle-punched polypropylene filter fabric. It is available in 3 sizes, 6" (150mm), 12" (300mm), and 18" (450mm), and comes standard in 150' lengths. Rolls have a 55" diameter.
Multi-Flow is many times stronger than conventional round drainage pipes, and has much more surface area for the collection of water. When used as a replacement for a French drain, Multi-Flow is typically installed in a 4" wide trench, and back-filled with clean coarse sand. The combination of the high quality drain core and sand based installation method results in a complete drain system that outperforms and outlasts any other.
Features & Benefits:
Reduce the backfill
Reduce your labor
Reduce the amount of spoil
Reduce trencher size and weight
Reduce costs