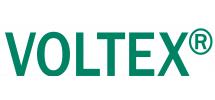 Bentonite Geotextile Waterproofing
Voltex® is a highly effective waterproofing membrane ideal for below-grade vertical and horizontal foundation surfaces. Voltex uses the high swelling and self-sealing properties of Volclay sodium bentonite to form a monolithic, low permeable membrane to protect the structure from water. Installation is fast and easy, requiring no primers or special tools. Voltex can be installed in virtually any weather, including freezing temperatures and damp conditions.
Voltex is a unique composite comprised of two high strength geotextiles and a minimum 1.1 lbs. of sodium bentonite per square foot. Fibers of the two geotextiles are interlocked by a patented needle-punching process which encapsulates the bentonite and keeps it uniformly distributed throughout the product. Voltex DS incorporates a HDPE liner bonded to the thick non-woven geotextile. The HDPE liner provides superior chemical resistance, extremely low permeabilities for water vapor and gas transmission.
Features & Benefits:
Durability: withstands inclement weather and resists construction-related damage
Superior Adhesion: mechanical bond tenaciously secures product & prevents water migration
Long Service Life: provides waterproofing protection for the life of the structure
Environmentally Safe: NSF Standard 61 certified for use with potable water
Easy to Install: quick and easy installation without adhesives or special equipment
Self-Sealing: active, swelling properties of sodium bentonite seal small cracks
Uniformity: minimum 1.1 lbs. of sodium bentonite per square foot
Integrated System: complete accessories, including bentonite waterstop